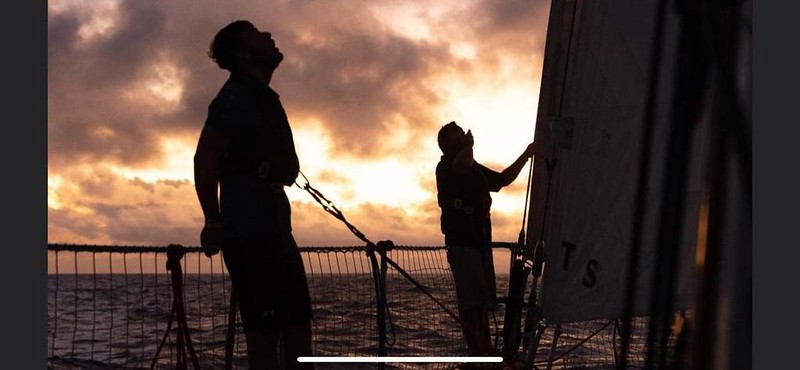 Many of you will know that one of our Watersports Instructors, Alfie Butler, was given a life changing opportunity to join the prestigious Clipper Round the World Yacht Race for the first leg from the UK to Uruguay. Team Archie chose Alfie as the recipient of their Clipper Bursary after an impressive interview when he told of his desire to motivate other young people to achieve their dreams.
He began his 7 week adventure as the youngest crew member on the yacht Zhuhai on September 3rd 2023. The first leg took them to Puerto Sherry in Spain en route to Punta del Este in Uruguay.
Here at AHOY we were keen to catch up with Alfie when he returned a few weeks ago. The whole team at AHOY had been following his progress and in particular the young people that Alfie works with were excited to be able to plot his journey on the wall chart that they produced.
When talking about the experience, it is clear to see the enthusiasm and excitement the voyage has generated. Not only has Alfie learnt a huge amount about sailing a large yacht in many differing conditions but he found that working in a team made up of people of all ages from all walks of life the most rewarding side of it all.
A typical day on board would be:
7am – 1pm on deck 6 hour shift
1pm – 7pm long sleep
7pm – 11pm on deck 4 hour shift
11pm – 3am short sleep
3am – 7am on deck 4 hour shift
Sleep time included mealtimes, washing etc so was heavily curtailed!
Food played a very important role in the race with all crew members burning up 1,000's of calories every day. Each yacht is given a budget and the team victualler is responsible for planning all the menus and supply of provisions. Alfie was full of praise for their victualler who had made sure that not only were they well fed at mealtimes but also had plenty of snacks and treats to keep them going throughout the day. Alfie particularly remembers how motivating the thought of an ice lolly was at the end of a gruelling sail change in tropical temperatures. Everyone on board takes a turn to do Mother Watch when they are responsible for cooking everything on the day. For Alfie this was a new experience but he has enjoyed making the bread and cakes so we are looking forward to seeing the results of that new skill!
One of the most challenging aspects of the trip was dealing with the very high temperatures around the equator. Temperatures below deck would sometimes reach 50°C making sleeping very difficult indeed, especially in what was called the coffin bunk. This is when little things like a bunk fan make a big difference.
Even when they arrived in port, the work was not over. Alfie was amongst a small group of yachtsmen who were invited to give a talk at a local school where they received a very warm welcome.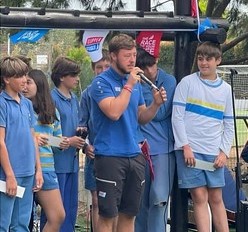 When asked what the best bits were, Alfie said there were just too many to choose from but he did say the flying fish were amazing to see even if they slapped you in the face, the sunsets, the stars, the bioluminescence, crossing the equator when 'Neptune' appeared, achieving a PB speed of 18.6knots whilst at the helm, but the whole experience was just one huge best bit!
There is no doubt that this whole experience and the people that he met will change and enhance Alfie's life and will give him the opportunity to inspire other young people to strive to overcome whatever challenges they face and to achieve their dreams.